And we are back for the second issue of our AGM News Ticker. We hope you are all well and preparing for this year's meeting. In case you have not yet registered, we suggest you do so right now. Also, remember to check the visa regulations that apply to you.
In this Ticker mailing we will look a little more closely at this year's conference topic, how to connect to it, and the first items are logged onto our reading list. There are also tips for packing and information on Germany and Halle.
Enjoy your reading!
---
Remember: Apply for your Schengen-Visa now
Please remember to apply for your Schengen-Visa now. The Federal Foreign Office of Germany has informed the embassies around the world of our upcoming AGM, so please contact the one in your country now to make an appointment as soon as possible. Also remember to ensure you informed the GYA Office that you require the personal invitation letter for your Visa before that appointment.
---
Topic introduction: Re-Enlightenment
At the upcoming international conference, the GYA welcomes a debate about re-enlightenment: thinking about the role and limits of science in today's globalized society and about how science can help in solving its problems.
Therefore, "enlightenment" will not only be viewed as the historical movement in Europe, but in a broad sense and from a global perspective. Enlightenment as a global concept means connecting to reality and truth. It relates to core values such as critical thinking, freedom of thought and scientific achievement, and is in opposition to science denial, post-fact and post-truth movements. The conference aims to engage with these values across temporal, geographical, cultural, linguistic, and disciplinary boundaries.
How can members connect to this topic?
The panel topics cover a wide range of questions having to do with the role of scientific work in society, and to which scientists of ALL disciplines can connect. Here is an overview of what to expect from each panel:
Different places of truth: science between global and local
The GYA advocates the universal value of science and evidence-based policy, but also advocates for diversity and inclusiveness. This is just one tension between embracing universal values and valuing (local) difference. Similar tension arises from co-existing frameworks such as: globalization and (cultural) diversity; human rights and local traditions; globalized agriculture and biodiversity; global commons vs local intellectual property.
Different paths to Truth: science, art, religion
This panel discusses the different potential paths to truth and knowledge. How they can inspire each other? How do they sometimes create conflict? If science plays a vital role in this knowledge landscape, (how) can the different paths be reconciled?
The role of scientists in a Post-Enlightenment world
The role of scientists in society has maybe never seemed less clear than today. On the one hand, they seem powerless in a supposedly post-truth and post-fact world. On the other hand, tremendous hope is still put into scientists: in areas reaching from averting climate change, to curing diseases, to developing life-saving algorithms, scientists are called upon to bring reason and insights into public debate and policy advice. This panel will look at examples of successful trust-building and ask what lessons can be learned, and how young scientists in particular can contribute.
The limits of (Re)Enlightenment?
What are the limits of enlightenment, of science? These are often associated with the limits of reason, the extremes of reason, or the tendency of reason to collapse into unreason. Therefore, enlightenment is often opposed by a counter-enlightenment that has stressed emotion, intuition and aesthetics instead. In addition, reason and science have also caused many of society's problems: Today, the world is confronted with major environmental problems, climate change, and other effects of the Anthropocene. How can we transcend these limits?
AGM Conference Statement
Do you want to be involved with your fellow GYA members in drafting a conference statement? The statement draft would then be presented for feedback to all members after the conference sessions. If you're interested, write a short e-mail to by 17 February.
Halle and the Enlightenment
The conference topic was inspired by discussions at the EC in-person meeting in October 2017 in Halle (Saale). Historically, Halle was a significant place during the Age of Enlightenment. The movement brought about a general popularization of science as a tool to enhance human development and societal progress. From this historic anchor, we want to explore the ideas of enlightenment and the changes they brought about, and re-imagine them, informed by diverse perspectives, for the world of today.
The following forerunners of their time attest to the unique historical position of Halle:
Anton Wilhelm Amo – the first person from Africa to study at a European university, studied at the University in Halle starting in 1727, where he later became a professor.
Dorothea Erxleben, the first female medical doctor with a doctorate degree, (1754 at the University in Halle). She fought for special permission to complete the doctoral exams from the King, Frederick the Great.
August Hermann Francke (1663-1727) was a key figure in Halle, founding a Pietistic educational centre which propagated egalitarian education (for girls and boys, in German rather than Latin).
Hildegard Wegscheider, received her doctorate degree in philosophy in 1898 at the University of Halle, one of the first women to complete a doctorate degree in Germany. She enrolled in Halle after the Humboldt University in Berlin refused to let her study.
---
Leopoldina: GYA now and before.
Since January 2017, the GYA has been hosted and legally represented by the German National Academy of Sciences Leopoldina in Halle (Saale), Germany. The 2019 GYA AGM will take place at the Leopoldina main building, only a 5-minute walk away from the GYA Office, which is located in an historic building that was the Leopoldina's headquarters until 2012.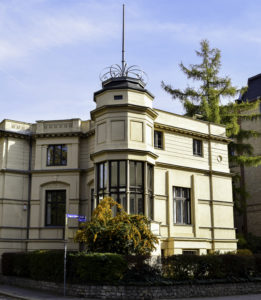 Before moving to Halle, the GYA was hosted by the Berlin-Brandenburg Academy of Sciences and Humanities (BBAW) in Berlin from 2011-2016.
---
Call: Presentation Coaching
Knowing how to present your work and your scientific progress is becoming increasingly more important. It is a major part of your life as a scientist and thus once more we are collaborating with the amazing Lisa Shufro to bring to you a Presentation Coaching that will be part Webinar, part on-site. You will learn about structuring a 3-minute talk to professionals outside your field of expertise and get an introduction on how to properly prepare for conference environments. Interested? Then please mark the dates:
Webinar 1 – 01 April 2019, 9:00 EST
Webinar 2 – 08 April 2019, 9:00 EST
On-site at the AGM – to be announced
We will supply the links to the webinar sessions prior to the sessions themselves. More information is posted here: Presentation Coaching with Lisa Shufro
Call to Action: Introduce yourself!
Here you can introduce yourself to other GYA members and participants of the 2019 AGM and Conference. Your short text will be put on a "blog"-style page on the AGM website, where you can browse through other participants' mini-profiles as well. Head over here to submit your introduction: AGM Member Introduction
---
The AGM Traveling Guide
What to pack: Sockets, cables, chargers!
In Germany the power plugs and sockets are of type F, also known as "Schuko". This socket also works with plug C and plug E. The standard voltage is 230 V and the standard frequency is 50 Hz.
Please check with your local hardware store. You might not just need a power plug adapter in Germany, but also a voltage converter.
Do bring your phone's charger cable – be that standard USB or lightning plugs for the Mac variety. Remember that USB ports are quite universal these days and could save you having to buy an adapter / converter.
It has proven to come in handy to have a standard USB stick of at least 8GB handy if data needs to be transferred from one computer to another manually.

Your first time in Germany? (Part 2)
The German currency is the Euro. This is not "German money", but it is the official currency of 19 of the 28 member states of the European Union. One Euro equals 100 Euro-cent.
Banks have opening hours usually from Mon-Fri between 09.00 and 18.00 hrs. Saturdays they only open until noon. An ATM is a "Geldautomat" in German, and most banks have them accessible at any time of the day. There are several on and around the market place in Halle. Within the eurozone charges for ATM withdrawals and credit card payments are domestic payments and you get charged domestic fees.
Some advice when traveling to a country with a foreign currency:
Find out if your bank at home charges extra for withdrawal of foreign currency with your credit card or your bank card. Your bank card should have a Visa, Mastercard or EuroCard logo to work with ATMs in Germany and Europe.
Use a mix of payment methods. Consider buying some traveler checks issued in Euro to get cash.
Exchange money in Germany / Europe, not at home.
Don't withdraw a small amount daily, better get the money you need for the next few days all at once.
Consider bringing a small amount of Euros from home so you can buy things like train tickets, a bottle of water or a snack. So you don't need to panic when you arrive in Germany outside working hours of banks.
Getting to know Halle: Arts Museum Moritzburg
Like no other place in the world, the Kunstmuseum Moritzburg Halle (Saale) unites modern art in the architectural shell of a late medieval bishop's residence. In the over 500 years of constantly changing architecture, the museum as an art museum of the state of Saxony-Anhalt preserves and presents works of fine and applied art from antiquity to the present day.

The Moritzburg Arts Museum in Halle.
Art and architecture form an impressive unit that invites you to discover, linger and especially in the summer months to enjoy the experience in the café in the unique courtyard of the four-wing complex in the center of the city of Halle (Saale).
Several times a year, the Kunstmuseum Moritzburg Halle (Saale) presents temporary exhibitions with national and international aspirations as well as regional themes and artists. Again and again, outstanding objects of their own collections are exhibited and staged under new thematic points of view.
In the spring of 2019, the Kunstmuseum Moritzburg Halle (Saale) will present the most important works of the Ziegler Collection, which is one of the most important collections on the art of expressionism and classical modernism in Germany.
The arts museum's website is available here. Please note that it is only available in German.
---
Inspirational quotes
Seda Keskin joined the GYA as a new member in 2018.
I am very glad that I attended the AGM in 2018 where I met brilliant scientists from all over the world.
Meeting new members opened my horizon and listening to the experiences of other members enriched me. I strongly suggest that new members attend the annual meetings, especially the new member orientation program both to learn and to have fun.
Yoko Shimpuku from Japan is another new member from 2018, and also one of the current members of the GYA's governing body: the Executive Committee.
The GYA is the place where you bring your energy and creativity to achieve what you want. Don't wait, and prepare for your start!
Sezgin Bakirdere from Turkey was also inaugurated as a new member in Thailand 2018.
It was wonderful year I spent with the many scientific studies. 37 SCI-SCI-Expanded papers of our research team have been accepted in the international high impact journals. I have presented some of our studies as invited speakers not only in scientific conferences but also in high schools to motivate them.

For new members: GYA is one of the biggest motivation sources for me to walk in the scientific way. In AGM, our new members will have chance to improve their scientific vision by talking with GYA family members from different disciplines. All members will learn the meaning the phrase of "If anyone can we can" in AGM. GYA is not only a global organization; it is a family where you can easily keep in touch with your family members if you need for any reason.
Thank you Seda, Yoko and Sezgin for your kind and motivational words.