Only three more weeks until the AGM, and we are already onto Ticker #6. So there are just two more left. Now the final time for preparing begins. In this issue we will look at what is planned for our social media channels and communication in general. Furthermore, you will find a rundown on the different dinner functions we are preparing for you at the AGM.
In our Travelling Guide we are looking at a few things you might want to consider as souvenirs to bring home to your loved ones, and a few more interesting things you might come across when spending time in Halle (or possibly anywhere in Germany).
Social Media: Let's get the word out.
We will once more aim for extensive coverage of the AGM through our own website as well as Social Media Channels. This includes but is not limited to Facebook, Twitter and Youtube. If you have not yet done so, please follow us on those social media outlets:
This coverage includes you. Snap photos at sessions (just be mindful of those who would possibly not like their charts or information displays to appear on social media), include a great quote and put it on Twitter. Use the #gyagm2019 hashtag – or tweet at us (using @GlobalYAcademy). Both allows the Media Office to pick up your content.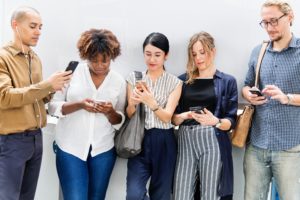 The same applies to Facebook. If you feel like there is something to be put out there in more than 140-280 characters, then post your photo and a few lines to describe it on Facebook. Mention the GYA (@GYA.online) or send us the link to your post (must be publicly available so we can share it) so we can look at including it in our feed.
Most important is: Get the word out there. Share the motivation and inspiration that is so palpable throughout the conference. Let us aim to show the world just how much heartfelt passion goes into everything the GYA is and does. Remember, you are the GYA. The GYA is you!
AGM Code of Conduct
Please be aware that there is a guideline for the AGM concerning social media, what to post and - most importantly – what not to. Please refer to the document detailing this: Social Media Guidelines.
In general, we ask that you please be aware of the potential for large cultural and individual differences in what is seen as appropriate information to be shared. If in doubt, please ask before posting. We expect all meeting participants to behave with the highest of decorum in their communications online and in person
Humans of the GYA: Video interviews
Last year the GYA Press Officer began interviewing members and alumni to present members, their work, and their stories to each other and the rest of the world. These posts have appeared periodically on social media since the last AGM.
A refinement of the project this year will be the opportunity to have these interviews filmed (1-2 minutes). Any subsequent post will appear on our YouTube account and will be circulated on social media.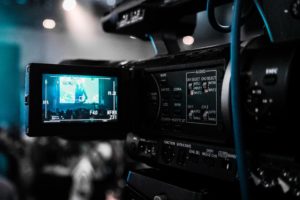 If you are interested in such an interview, please consider the following questions as a starting point: Why do you do what you do? What inspires you? Why did you join the GYA?
If you would like to be interviewed, you can signal your interest by , who will then track you down during the AGM.
Dinner Nights: An overview
At this AGM and Conference, you will see a bit of the city through the different dinner venues.
Monday: Flying Dinner
Leopoldina - business casual, with a dose of 'informal'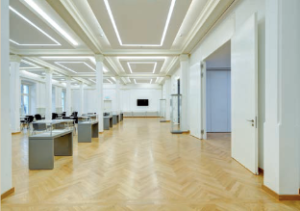 Pictured: Leopoldina common area downstairs.
This dinner takes place right at the Leopoldina venue - and it will be a quick one. It is members only and thus will not require special evening wear. Buddies get to meet and talk, everyone can mingle after a long day, speak about the week ahead and all the ideas will begin forming as the AGM picks up momentum. There is the opportunity to visit the Art Museum Moritzburg for a lecture and performance of the Science + Art working group right after.
Tuesday: Dinner Reception
Art Museum Moritzburg - business casual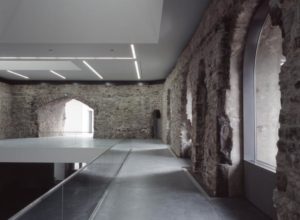 Pictured: Moritzburg, upstairs gallery
On Tuesday, we will be at the Art Museum Moritzburg. Ticker #2 has previously introduced the museum. It is a lovely venue that will certainly set the stage for a great night. We do suggest to stay in business casual style. Possibly consider bringing a dinner jacket.
Wednesday: Dinner Reception
City Hall (Stadthaus) - formal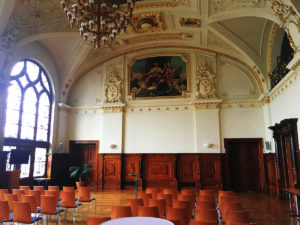 Pictured: Halle city hall, great reception hall.
On Wednesday the City of Halle invites us into the City Hall for dinner. Guests will join us, as will the representatives of the City of Halle. There is no need for a tuxedo, or even black tie, and yet we kindly advise to consider dressing a style somewhat more formal (such as choosing khakis and a dinner jacket or a dress / skirt rather than jeans).
Thursday: Gala Dinner
Steintorvarieté - formal
On Thursday, we will have our grand Gala Dinner. The Steintorvarieté, certainly one of the best locations in town, opens its doors for us and we will welcome many guests among whom will be Vladimir Šucha, Director General of the EU Commission Joint Research Centre. This will be the week's only sit-down dinner, and we highly recommend dressing for the occasion with a suit, dress or something equally elegant.
Friday: Farewell Dinner
Speiseberg - business casual with a healthy dose of 'informal'
Friday is the AGM's last day and thus we will end the week with our Farewell Dinner at the Speiseberg. Once more, it is members and alumni only, so we suggest dressing nicely but also comfortably. Experience tells us, there might be some dancing. So bring those dancing shoes.
AGM Preparation: Constitutional changes, A Year in Review and more
To ensure the smooth running of the AGM there is a lot of ongoing preparation. You might be involved in some if, for example, you are a member of the LOC or POC, or are working with fellow working group members to best present your activities at the GYA.
To better make the reports, reviews etc., accessible to all of you, we have set up a living folder, with living documents on the GYA OneDrive here: GYA 2019 Preparation
GYA's internal processes & constitution
The internal processes & transparency portfolio, led by Laura Fierce, has put together an extensive folder for review: In response to discussions at the last AGM, but also in an effort to make our processes more responsive and efficient, various GYA committees have put forward proposals to change the GYA's constitution and to improve the GYA's internal processes.
Changes were suggested and are now waiting for your input – so that they can be discussed and decided on during the AGM. To make this process as smooth and streamlined as possible, please review the proposed changes and provide your comments in this summary document by Friday 19 April.
A Year in Review
For the AGM 2019, portfolio and committee leads have been asked to create a year review for you to read up on before the AGM. This will give you insight into their progress, as well as challenges and just overall performance. Find the reviews here: Year Review AGM 2019 (OneDrive).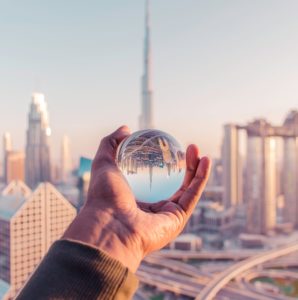 Portfolio leads reflect on a busy year:
Anina Rich, EC member responsible for the Diversity & Inclusion Portfolio, names the following as two of the portfolio's major achievements: 1) The GYA discipline categories were updated to now allow for assessing our diversity in field, in linking members and in promoting the GYA. 2) Working with the At-Risk Scholar team on the pilot membership pathway for At-Risk applicants was pushed ahead and included collecting member feedback and resolving concerns. [More]
Abdalhadi (Hadi) Alijla, lead of the Fundraising Portfolio shared the following: Fundraising portfolio takes the responsibility to coordinate, oversee and engage GYA members and the EC in the efforts of fundraising with the professionally hired fundraisers. Therefore, the plan that was set up in June 2018 meant to advance the portfolio in several ways, as well as to approach new donors from several regions at various levels. [More]
Adewale Adewuyi for the Large Project Portfolio kindly shared the following: The Large Project Portfolio has been able to develop a document on guideline and structure for externally funded projects. This also includes a template for periodic reporting/assessment on/of such projects. Aside from this, there is also a document on guideline development for Strategic Initiative Projects (SIP), which is a new concept. This SIP document is currently being developed. [More]
Individual reflections: How was your year with the GYA?
We would also like to hear from YOU! Reflecting on what we all thought members could do between AGM 2018 and 2019, what were your highlights? What challenges did you face in trying to achieve these goals for the GYA? What issues arose that you would love the chance to discuss with others at the AGM, time permitting? If you would like to submit your individual reflection as well, you can do so here: Individual Reflections 2019
Some members have already submitted individual reflections. You can find them in an easy-to-read PDF format already uploaded to this folder: Year in Review: Member Reviews
Travel together
In the same folder, you find a living excel sheet that allows you to enter your arrival and departure dates for the AGM. This way, fellow members can get in contact with you should you be on the same plane or train. Direct link to the file is here.
Leopoldina Centre for Science Studies
The Leopoldina Centre for Science Studies coordinates the Academy's activities relating to the history of science and focuses on fundamental science theory issues of relevance to the subjects represented by the Leopoldina members. Its work is centered on the position and significance of science in society — past and present. The Centre provides research facilities for visiting scientists, who wish to make use of the Leopoldina's archive and library. It also coordinates its own programmes to process materials from the Leopoldina archive and library to make them publicly available. The Centre also collaborates with other science academies, and is currently involved in research in four areas, each consisting of several separate projects: international science relations, history of the Leopoldina, basic questions of science and society, and scientific editions and digital developments.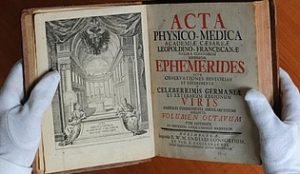 Conference Calls:
Did you miss any of the AGM Conference calls? We do have all of them listed on our dedicated AGM website on the Conference calls page. There is information on Science Outreach Programme, a fundraising workshop, and the presentation coaching with Lisa Shufro. Don't miss out on any of these opportunities.
Internal Processes & Constitution
In response to discussions at the last AGM, but also in an effort to make our processes more responsive and efficient, various GYA committees have put forward proposals to change the GYA's constitution and to improve the GYA's internal processes. Please take a moment to review the proposed changes and provide your comments in this summary document.
At the upcoming AGM, we will vote on these proposed changes to the GYA's Constitution. We will also leave room for discussion on any non-constitutional changes if needed. Please provide your input as comments on the linked document by Friday 19 April 2019, after which responses will be collated in preparation for discussion at the AGM.
The AGM Traveling Guide
What to pack: The pin! And a list of souvenirs to bring home
Bring your GYA pin!
Do you have your GYA pin? You should definitely wear it. It certainly goes well onto a shirt, a dinner jacket, a cardigan or even a dress.
Souvenirs to bring home. A small shopping list
Salt - The theme of salt is found all over the town. Salt, also known as white gold, is an integral part of Halle's economic history. It was extracted from four "Borns" (well-like structures). The four brines were located around the Hallmarket (which is the lower section of Halle market). The brine was highly concentrated and boiled in Koten, simple structured houses made from reed and clay. Salters, who wore a unique uniform with eighteen silver buttons, were known as Halloren. However, while it certainly is a great gift to bring home, we advise caution if you are leaving for home on a plane. There have been some difficulties getting salt-products through customs in the past.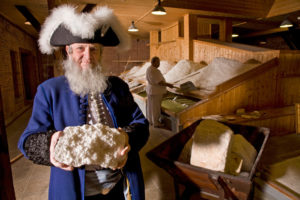 Halloren – Halloren is not just the name of Halle's Salters, it is also a brand originating from Halle itself. One of their most well-known products are the so called "Halloren-Kugeln" (Halloren balls), shaped like the buttons the Salters would wear on their overcoats. The confectionery comes in all kinds of flavours by now but used to be available only in what's now coined the 'classic' version – which is "Cream and Cocoa" that has the thumb-sized truffles half-filled with a light and half filled with a dark cream. It's all wrapped into a coat of dark chocolate. A single box contains 125g of chocolate truffles for approximately 1,00 EUR. Should you consider buying them, consider that some flavours might contain alcohol.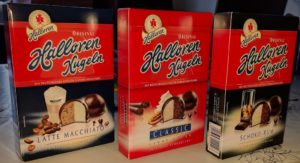 Milka – Milka, originally from Switzerland, is a very popular brand for all things chocolate in Germany. Most of its production of its 100g chocolate bars happens in its Germany-based production site in Lörrach.
Haribo – Haribo (/ˈhærɪboʊ/ HARR-i-boh) is a German confectionery company, founded in 1920 by Johannes "Hans" Riegel, Sr. It is headquartered in Bonn and the name is an acronym formed from Hans Riegel, Bonn. Haribo made the first gummi candy in 1922 when Hans Riegel, Sr. invented the first Gummibärchen (little gummy bears). After Hans Riegel, Sr. died during World War II, his son, also named Hans Riegel, took over the company. Over the years, Haribo has expanded its operations, taking over many local confectionery manufacturers in countries all over the world. It began international expansion in the 1960s and entered American markets in the 1980s. It currently operates 16 factories which produce over 100 million gummy bears per day.
We added the souvenir shops at the Halle Market to the Google Map for quick reference. You can of course check the shop of the City of Halle online as well. The page is here and available in English: Shop.
Your first time in Germany?
Out and about - As you walk through the town of Halle (or have caught glimpses of other cities or towns on your way here) you will notice certain peculiar things. Some we would like to take a closer look at and possibly attempt to explain a little.
Germans love bread and baked goods.
Did you notice the number of small bakeries, bake shops and cafés that double as bakeries as you made your way around? Keep your eyes open. There might just be one on literally every corner. Give it a shot, and step inside. You will find a wide variety of rolls (Brötchen), at least a dozen kinds of bread loafs and lots of cake and other sweet concoctions or sandwiches. While a whole loaf of bread is certainly not a to-go snack, you could pick up some of the other sweet and savoury treats. They come in all kinds of flavours! Why, you ask? Well, Germans certainly love bread. Did you know that there is an Institute for Bread? Well, Germany has one. And in its registry it names over 3,000 different kinds of bread in this country.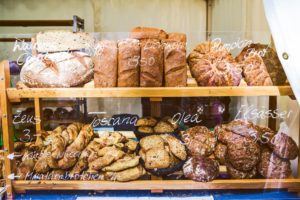 A key German term rests upon those hearty loafs: one of the words for work is Broterwerb, literally "gaining one's bread." Bread is a staple for most meals in Germany: at breakfast, break-time (sometimes called Pausenbrot, or "break bread") and dinner or Abendbrot, literally the "bread of the evening."
German bread is heavy and has substance; it (literally) outweighs fluffy focaccia or ciabatta. Today, while food trucks in other countries serve up tacos and burgers for lunch, Germany sticks to standard bakeries, which all stock "belegte Brötchen," rolls with various fillings -- the real German fast food.  There are German standards for bread quality and sizes, and each year the German Institute for Bread announces its "bread of the year." In 2018, it's Dinkel-Vollkornbrot, spelt whole grain bread.
Pharmacies are everywhere, if you need something.
In Germany, any kind of medication (be it prescribed or over the counter) is available in pharmacies. There you can also buy the more specialised or high-end skin-care products and so forth. They are called 'Apotheke' and there is usually one nearby. Please note that a drug store (you will find stores called 'Rossmann' or 'dm') is not the same. The latter mainly sells beauty, care and cleaning products, whereas it is the Apotheke that will help you with a need for ibuprofen, aspirin or other required medications.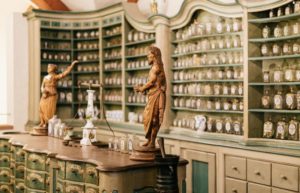 Pictured: Outlet of a bakery store.
Shops close early / Restaurants might too
Depending on where you come from, it might be peculiar for you to see that shops generally close either at 18.00 or 20.00 hrs on a normal week night. On a Saturday, it is not unusual for shops to close at 16.00 hrs or even earlier. Note that Sundays and public holidays (1 May is such a holiday) shops remain closed. There are emergency pharmacies for those days, but other than that you should try to cover all your shopping needs on other days.
Halle is a fairly small town. Finding places that are open 24/7 might be a bit tricky. Normal closing hours for restaurants are usually between 22.00 and 01.00 hrs on a week night. They might stay open longer on weekends but not necessarily. So check business hours when choosing one such venue for an after-AGM working group session.
Free WiFi is not widely available
We have mentioned this before. Free WiFi is not something offered in every bar or café. Some do have it, but it is not something to expect outside your hotel, a train-station or airport. Remember to download an offline map, and enable GPS. You should find your way around with these two tools just fine.
Getting to know Halle
The Francke Foundations in Halle, founded in 1695 as a Pietistic social and educational work by August Hermann Francke, are today still a modern educational cosmos closely connected with their history. They feel bound to a double heritage: the responsibility for the salvation and lasting preservation of the building ensemble and the historical collections as well as the task of continuing the ideas and traditions of their founder into the future. Today the Foundations see themselves duty bound to do justice to both the material and idealist heritage that has been passed down. In the Francke Foundation's past the establishment of a three-story house for orphan girls and a girls' school in 1709 is to be noted, thus granting equal rights for education to girls, instead of only boys. Furthermore around the same time, a global correspondence network that spread the reform plans of Halle Pietism all over the world was formed. Evidence of it can still be found today in many European countries, in South India, Russia, Poland and the USA.
The IZEA (German abbreviation for Interdisciplinary Centre for European Enlightenment Studies) was founded in 1990 as a central scientific institution of the Martin Luther University of Halle-Wittenberg. As a research institution for the history of culture and ideas, it explores the foundation of modern Western societies through the study of ideas and cultural patterns developed in the 18th century. Thanks to its outstanding library, its publishing projects, its geographic proximity to important historic sites related to the Enlightenment (including extensive archives, libraries and art collections), and its partnerships with major cultural and scientific institutions,  the IZEA is now one of the most important international research institutes dedicated to the study of the Enlightenment, and is an essential meeting point for scientists from around the world. The IZEA is situated in the Francke Foundations area. At the AGM, we are delighted to welcome the IZEA's director Prof Dr Elisabeth Décultot on 1 May in the Introductory Panel on 'What is Enlightenment?'.
Halle in one Day
The City of Halle was so kind to provide us with a lovely flyer designed specifically for English speaking visitors of our town. We will have this flyer available for you as a brochure at the AGM. But maybe you would like to already have a look at yet more things to know about Halle before your arrival. Find a PDF version here.
Inspirational quotes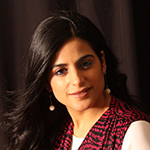 Karin Carmit Yefet (Israel) joined the GYA as a new member in Thailand in 2018.
This year has been very hectic! As the leader of the Constitutional and Legal Committee (CLC), I was very busy reviewing the entire constitution and offering many revisions, and I was involved in the selections committee (almost 50 applications to review!). But most importantly, as a member of the women's committee I am trying to organize a joint conference together with the Israel Young Academy. Regarding the new members, suffice it to say: Sleep tight before arriving, since sleep is the only thing you will not (want to) have during the AGM! Best wishes from the Holy Land, Karin
Maarten van Heerpen (Netherlands) joined the GYA in 2014, he will be outgoing this year.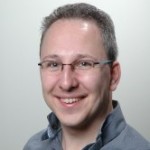 I have very much enjoyed my membership of the GYA, and intend to remain active as alumnus. Through the GYA I am in contact with more than 200 top scientists all over the world, and who are also my friends. On several occasions I have been looking for somebody to collaborate with, and found this person through the GYA. What I also found very valuable is the 'opportunities' email by the GYA, through which GYA members share funding and other opportunities with each other. My recommendation to new members is to never miss the annual global meeting, and to join a working group to which you can actively contribute. 
And once more, this is it. We hope you are all well and preparing for your time in Germany. Let us know if you have any questions or suggestions by simply sending an email to .
Not long now! See you in a few weeks!